Cedar Siding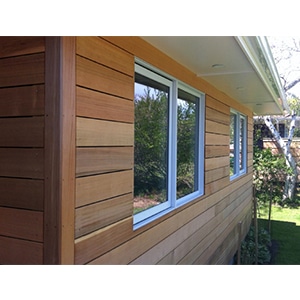 Cedar siding is a great option for San Francisco homeowners thanks to it's resilience in all kinds of weather. Cedar is also an aesthetically pleasing choice to boost your home's curb appeal. Cedar is a good match for all types of home architecture so it's just a question if cedar is a good fit for your own personal style.
Call to learn more about our range of siding choices, from cedar shake shingles to cedar board siding replacements, along with redwood siding and James Hardie fiber cement siding. Reach out to us at 800.747.0272 today and and we'll arrange for a consultant to visit you, presenting various alternatives and aiding you in making the perfect selection. Perhaps a combination of cedar boards and shingles would best suit your home? Additionally, explore our siding installation services, where you can incorporate an 'accent' section, like stunning stone siding, to beautifully complement your cedar.
Cedar siding provides insulating properties and can help lower your heating and air conditioning bill. Cedar is also a green or sustainable choice as cedar is a completely biodegradable and renewable resource. In fact, cedar is one of the fastest growing trees. Cedar is also popular thanks to naturally occurring chemicals in the wood that helps resist termites and other insects, compared to other types of wood.
American Home Renewal's siding installation projects with cedar give your home the rich, textured look that can only be achieved with a natural material. Cedar can be painted in a variety of colors including stains for a variety of color options. We also offer young redwood siding, which some people prefer. Learn more about your options by sitting down with one of our design consultants who will go through your options and help you find the right siding material and style for your home and your own personal style.