Fiberglass Windows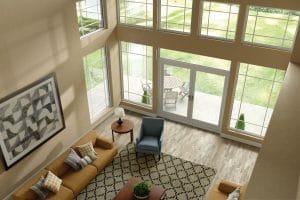 Fiberglass windows are extremely strong, require low maintenance, and are known for their durability. Fiberglass material is made from glass fibers and resin, materials with minimal expansion and contraction as the temperature changes. Because the fiberglass frame is made from glass the window and the frame expand and contract together reducing swelling and warping.
Fiberglass windows are stronger and requires less less maintenance than wood windows or vinyl windows.
Some of the advantages of a fiberglass windows:
Extremely strong
Low maintenance
Fiberglass lasts longer in both humid and hot environments
Several designer colors to choose from
Option of having wood veneer on the interior
You'll get a manufacturer's Lifetime Warranty
"Just got windows installed and they look beautiful from the inside and outside! Love the clean lines and modern hardware." – Sabrina
Ultra™ Series Fiberglass Windows
The Ultra™ line of fiberglass windows is an incredibly strong window which will also give you superb noise reduction and uv-ray reduction. Our Ultra and WoodClad™ fiberglass windows are both covered by our Full Lifetime Warranty with Glass Breakage Coverage!
WoodClad™ Fiberglass Windows
The WoodClad™ line of fiberglass windows combines the strength of fiberglass with the natural look of wood. WoodClad™ windows are made with furniture-grade wood veneer and are ready to be stained to match the existing woodwork and wood furniture in your home.
Milgard Full Lifetime Warranty
Milgard Ultra™ & WoodClad™ windows come with a lifetime warranty that includes glass breakage. For as long as you own your home, your Milgard windows are covered, parts and labor included under Milgard's Full Lifetime Warranty. 
Our "Satisfaction First" Guarantee
"American Home Renewal promises your 'Satisfaction First'™ on all of our services including fiberglass window replacement. For sixteen years our team has stood by no money is exchanged until your project is done right." – Chris Spilly President
More Details On Fiberglass Windows
Milgard fiberglass windows are the number one selling fiberglass windows according to a survey by Builder Magazine.
"Neighbors like the look and so do I… improved the look and made our home more energy efficient."
And, remember, your project is backed with our Satisfaction First Guarantee which means you will not pay a penny until the project has been completed to your 100% satisfaction.
Your Window Material Options