James Hardie Siding
About James Hardie Siding
James Hardie siding is a fiber cement siding made from wood pulp, cement, clay, and sand. It can be molded into all the well-known wood designs and styles such as shingles, board, clapboard and other styles such as stucco. Fiber cement comes in many colors and can be painted.
James Hardie siding is fire-resistant, rot-proof, termite-proof, and resists the normal expansion and contraction from temperature changes. And, the price is competitive with wood, brick, particle board, and above-average-quality vinyl siding. These unique characteristics make Hardie siding a low-maintenance and long-lasting solution and the James Hardie company backs it's product with a limited 30-year warranty.
American Home Renewal installs James Hardie siding products including Hardie® Plank, Hardie® Panel, Hardie® Shingle, Hardie® Soffit and Hardie® Trim throughout the San Francisco Bay Area. As of 11/4/2022 James Hardie reports our company has a 95% Recommendation rate based on customer surveys.
Additionally, American Home Renewal backs all of our work with this Satisfaction First Guarantee.
Hardie Siding Meets Bay Area Code
Some parts of the Bay Area have strict codes preventing products like vinyl to even be used. James Hardie siding meets all the local code requirements throughout the San Francisco Bay Area. With over 25 years serving the Bay Area we have the experience to navigate all the tricky building codes for you.
James Hardie's high quality siding has earned a place among the most popular siding options in the United States. Better Homes & Garden lists fiber cement as the #1 siding material available to homeowners.
James Hardie Rates Us 'Elite Preferred'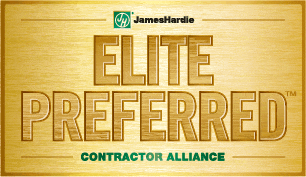 We are pleased to announce the James Hardie company has rated us an "Elite Preferred Siding Contractor," putting us among the top .1% of James Hardie siding contractors nationwide.
James Hardie Siding, A Popular Choice
Why is James Hardie siding such a popular choice among San Francisco homeowners looking to replace their old siding? There are several reasons so many of your neighbors chose James Hardie siding:
Durability:

James Hardie siding is made from fiber cement, which is a highly durable material that can withstand extreme weather conditions and resist fire, pests, and rot. This makes it a great option for homeowners in San Francisco, where the weather can be unpredictable and the risk of wildfire is high.

Low maintenance:

Unlike wood siding, James Hardie siding does not require regular painting or staining. It is also resistant to fading and cracking, which means that it will maintain its appearance for many years with minimal upkeep.

Energy efficiency:

James Hardie siding is designed to insulate your home, which can help to reduce your energy costs. This is especially beneficial for San Francisco homeowners, as the city's cool, foggy climate can make it difficult to keep your home warm during the winter months.

Aesthetics:

James Hardie siding comes in a wide range of colors and styles, so homeowners can choose a look that complements the architectural style of their home. This makes it easy to find a siding option that will give your home a fresh, updated look.

Warranty:

James Hardie siding comes with a 30-year limited warranty, which means that if there are any defects in the material or installation, the manufacturer will cover the cost of repairs or replacement. This gives you peace of mind and protection against potential issues.

Professional Installation:

James Hardie siding rates us 'Elite Preferred' the highest rating for a siding contractor. We have been trained by James Hardie to install their products and we will make sure your siding is installed correctly so it lasts a very long time.
James Hardie siding is a quality option for you and your San Francisco neighbors who are ready for new siding replacement. James Hardie's durability, low maintenance, energy efficiency, aesthetics and warranty make it a great choice for you. By choosing James Hardie siding, you can enjoy a beautiful, durable, and energy-efficient home for many years to come.