Wood Siding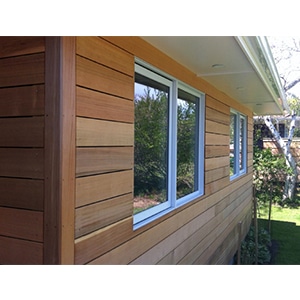 Wood siding is an aesthetically pleasing choice for your home. We offer redwood and cedar siding replacement either in shakes (shingles) or clapboard form.
While it is a less common choice in recent years, cedar siding has been used on houses for hundreds of years. Wood siding used to be made of raw hardwood such as yellow poplar, red oak, hickory, beech, sycamore and soft maple, but are now more often made from common softwoods like cedar and redwood.
There are also engineered wood options through LP Smart Side to consider. These products deliver all the warmth and beauty of traditional wood plus the durability of engineered wood.
The LP SmartSiding manufacturing process creates products that are engineered for strength, performance and protection against fungal decay and termites.
Ask your consultant for more details on the SmartSiding when your considering re siding with natural wood.
Wood does provide insulating properties, and can help lower your heating and air conditioning bill. Wood siding is considered a green option since it is a completely biodegradable renewable resource.
American Home Renewal's wood siding or Smart Siding can give your home the rich, textured look that can only be found in a natural material. Whether you choose shakes or clapboard, the experience of our expert installation crews will help ensure a perfect fit and superior finish for your home.