National Window Dealer of the Year!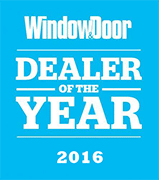 The popular national publication Window & Door Magazine has named American Home Renewal the Window Dealer Of The Year in the Installation category thanks to our very experienced team of window installation experts and our long history of leaving customers happy.
Here are some of excerpts from the article, you can read the whole article here.
Operating out of the heart of the Bay Area is no easy task for installers, considering each city's code requirements can vary greatly and the strict requirements on what type of products can be used where. American Home Renewal specializes not only in remodeling, but in understanding and servicing this very particular customer base.
Family Run and in business since 1997, American Home Renewal is founded on the principles of "offering the highest quality materials and services, along with a deep conviction that our customers must be satisfied before any money is paid."
Part of the company's success can be attributed to it's tenured team of installers. Almost all American Home Renewal's installers are AAMA certified Installation Masters, and those who aren't are at least on the path to certification.
There's definitely something different about American Home Renewal. "I've been around the country," says Buz Ashbaugh, "I worked in Georgia, I worked in Texas and on the west coast. Some of the stuff that I've seen these guys doing is pretty amazing."