Wood Windows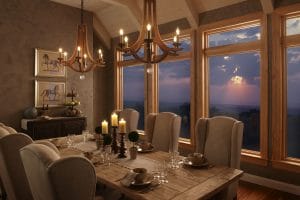 Wood windows, once the standard, have been replaced in modern windows by materials which are easier to maintain, more durable or both, namely
vinyl windows
and
fiberglass windows
.
But, homeowners never forgot their love for the natural beauty of wood and the elegant wooden window look is no less desirable today than it was 75 years ago. Thankfully there is a modern-era solution to the problem, found by merging the old and the new—wood and fiberglass— together for a modern home window with the beauty of real wood and the durability of fiberglass.
The most popular wood windows we install are Milgard wood windows, we also install wood windows by Andersen™ (A-series) and Sierra Pacific™. To learn more about wood window styles or to request a price quote give us a call today at 800.747.0272 .
A few advantages of wood windows:
Wood interior frame for a beautiful natural look on the inside
Fiberglass exterior frame so it lasts longer in humid or hot climates
Mix and match colors and window styles to get exactly what you want
Milgard's Lifetime Warranty on Milgard windows
5 Stars "Very pleased with the quality and appearance of the sliding door and sliding wood windows. They were easy to install but the door was heavy so it took 4 of us to set it in place. It was worth the effort. The interior Douglas Fir frame is clear and very well crafted. Both slide effortlessly." – DHS
Call 
800.747.0272
for more information or a free price quote.
.
Milgard Full Lifetime Warranty On Wood Windows
Milgard wood windows come with a lifetime warranty that includes glass breakage. For as long as you own your home, your Milgard windows are covered, parts and labor included under Milgard's Full Lifetime Warranty. Andersen doesn't offer a lifetime warranty on it's products but does have one of the strongest warranties in the industry.
Our "Satisfaction First" Guarantee
"American Home Renewal promises your 'Satisfaction First'™ on all of our services including wood window replacement. For sixteen years our team has stood by no money is exchanged until your project is done right." – Chris Spilly President
5 Stars "Our new Milgard windows are beautiful inside & out. They give our French/traditional style home a fresh updated look. We went from all wood windows, that had white grids, and that had become worn & warped to the Essence Series… looking forward to years of low maintenance-no need to paint exteriors." – BC
Always remember, your wood windows will be backed with our Satisfaction First Guarantee which means you will not pay a penny until the project has been completed to your 100% satisfaction.
Your Window Material Options