Vinyl Windows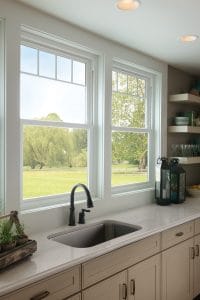 We carry a great selection of vinyl windows at competitive prices, each with a lifetime warranty that includes glass breakage! Vinyl windows also offer excellent insulation value, never need painting or scraping, and do not rot. Choose from ten great colors and enjoy more color flexibility with premium exterior finishes to coordinate with your home design.
We carry three lines of vinyl replacement windows, including:
"Within minutes of my new Milgard windows being installed I noticed how much quieter my house was."
Tuscany® Vinyl Windows
A combination of quality material and innovative engineering have resulted in the high-performance Tuscany line of windows. To ensure top quality from start to finish, Milgard begins by precisely controlling our vinyl compound formulation to withstand harsh climate conditions. We extrude our own frame material, and fabricate all Tuscany Series windows to order, giving us the tightest control over quality.
With one hand, lift the locking mechanism to open and unlock the window. Using the same motion, Tuscany Series windows are closed and locked. The technology behind the SmartTouch® Lock, patented by Milgard and an industry first, is secure and easy to use.
Tuscany Series doors are fitted with the SmartTouch®Handle that unlocks, opens and closes the door. The lock mechanism is hidden, allowing focus on the sleek, ergonomic handle design.
The SmartTouch® lock and handle exceeds all California forced-entry requirements, which are among the most rigorous codes in the nation.
Benefits of Tuscany® Vinyl Windows
Award-Winning SmartTouch® Lock
Full Lifetime Warranty
Glass Breakage Coverage
Our "Satisfaction First"™ Guarantee
"Neighbors like the look and so do I… improved the look and made our home more energy efficient."

Need more information? Please call

800.747.0272
Trinsic® Vinyl Windows
A contemporary vinyl window with an expansive viewable glass area and a narrow frame to help you embrace modern home design.
Benefits of Trinsic® Windows
Contemporary Frame
Durability & Energy Efficiency
Full Lifetime Warranty
"Very nice to have a noise and dust free house. These windows really updated the look of the home. Wish I had done this 10 years ago! Happy Homeowner."
Style Line® Vinyl Windows
Satisfy your desire for a streamlined design with Style Line® Series slim-profile windows. Make your home feel expansive and minimize obstructed view between adjacent windows. To maximize a smooth transition between surfaces, omit grids and keep the frame color neutral.
High strength design allows for more glass within a narrow frame. To create a smooth and sleek look, Milgard designed Style Line Series windows with minimal protruding hardware, slim-profile frames and neutral color finishes. Style Line Series casement and awning styles are operated by an innovative folding handle that tucks out of the way.
Benefits of Styleline Vinyl Windows
Slim-Profile Frame
Maximize Your View
Full Lifetime Windows
"Twenty years ago we had Milgard windows installed in our home – twenty in all. They have withstood the test of time."

If you have any questions call us at

800.747.0272
No window replacement or new construction window installation project is too big or too small for our expert window installers. Every project is backed with our Satisfaction First Guarantee which means you will not pay a penny until the project has been completed to your 100% satisfaction.
Your Window Material Options